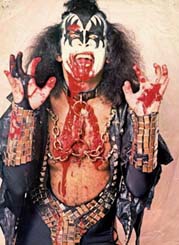 Indy Racing Gets Kiss of Approval

NEW YORK -- The Indy Racing League (IRL) said today it has signed Simmons Abramson Marketing, led by KISS frontman Gene Simmons, to create a market campaign for the 2006 season. Financial terms were not revealed.

The effort, "I Am Indy," will include such featured IRL drivers as Danica Patrick, Dan Wheldon, Sam Hornish, Helio Castroneves, Tony Kanaan, Dario Franchitti and Buddy Rice. The campaign will include TV, radio, print and Internet. The IRL's IndyCar Series begins March 26 and includes the 90th running of the Indianapolis 500 on May 28.

"Indy cars are rockets on the ground. These drivers are modern knights in shining armor, risking their lives at close to 225 mph," Simmons said in a statement. "'I Am Indy' speaks to the independent spirit in all of us." Simmons Abramson Marketing is based in Hollywood, Calif.

source: Brandweek

AKI COMMENT: KISS has an ad agency?!? And they're winning clients?!? WTF?!? What hope do we agencies have when clients can get KISS to present their next quarter's strategic plan? I propose we have a meeting soon to fuel some razzle dazzle and theater into our presentations!